Menu
The Reitbauer family
wishes you bon appétit!
Enjoyment and relaxation
in green nature surrounded by
mountains and fresh air.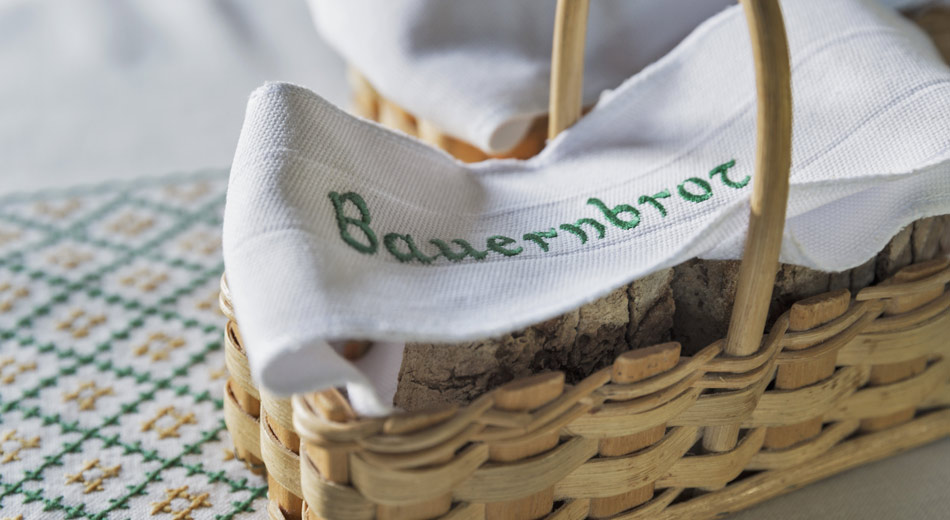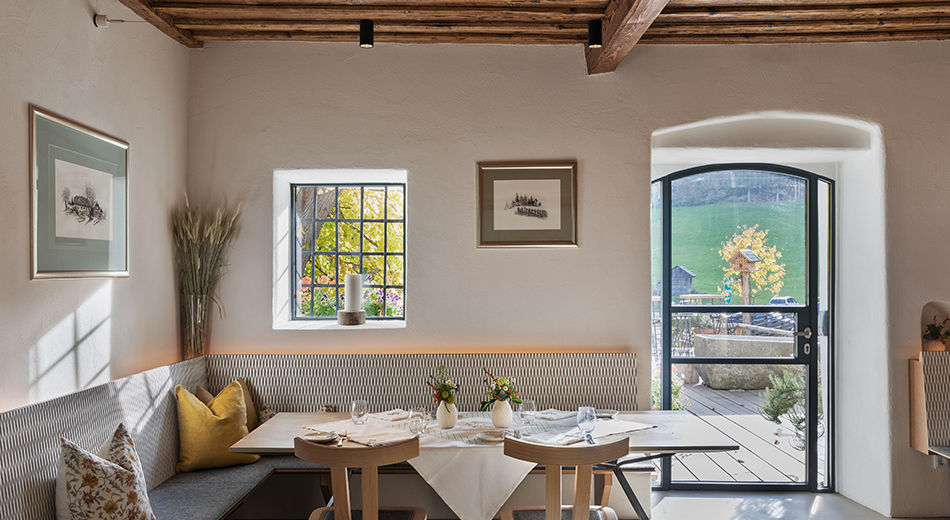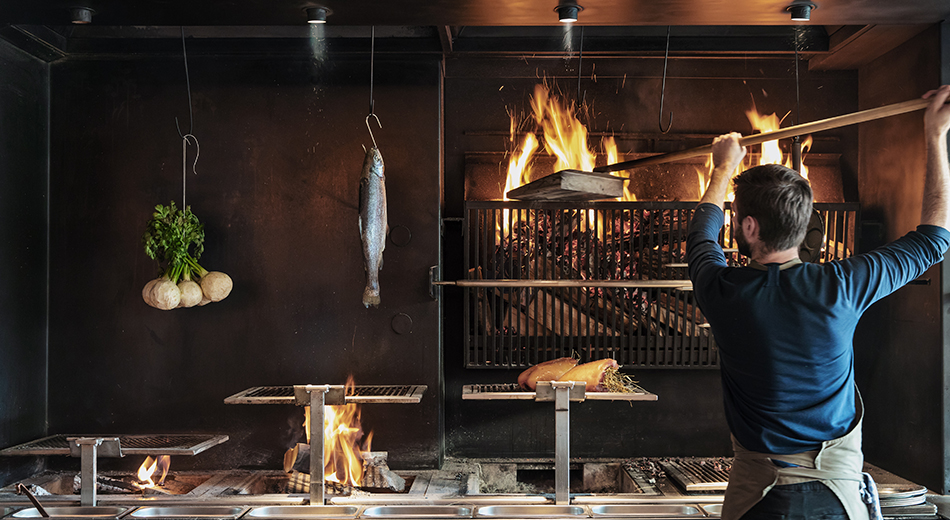 Bründl
trail
The Bründl trail starts directly in front of the Wirtshaus Steirereck am Pogusch. A hike full of discoveries, healthy nature and regional specialities.
All around
the Steirereck
Sleep, eat, hike and enjoy. There is a lot to discover around the Pogusch. Let yourself be pampered by the companies from the region.
The blossom
of the fungus
The world of mushrooms is mysterious and far from thoroughly charted, and only few of these wild things let themselves be tamed and cultivated by humans.
Coral Tooth
The Coral Tooth Fungus is a relative of the Lion´s Mane Mushroom and ranks among the gourmet edible mushrooms. It is very rarely found in wetlands or nature reserves. The coral-like fungus can reach a size of up to 40 cm and is protected in Austria. Cultivation of the fungus can contribute to biodiversity and its reestablishment.
In addition, it is also a valued medicinal mushroom and is used in traditional Chinese medicine (TCM). Its white coral-like fruit bodies make it a fascinating cultivated mushroom. The fungus is native to Europe, North America and Asia.




Orange Birch Bolete
This excellent firm fleshy edible mushroom is one of the most colourless edible mushrooms and belongs to the genus of the rough-legged boletus. Even very young mushrooms have a rough, scaly stem which often turns blue-green at the base. The tubular lining does not swell out from under the skin like birch fungus. The whitish flesh blacks when heated. From June to October, they usually grow on sandy, acidic soils as a companion to birch trees.
Birch Bolete
It belongs to the genus of the rough-legged boletus in which one differentiates meanwhile 40 types and in which there are no inedible and/or poisonous types. Birch mushrooms have a long stem with blackish scales in relation to their hat size. The whitish-cream-coloured tube lining has grown up in a padded form, especially in older fruit bodies. From June to October it yields fruit under birch trees on forest edges, wetlands and parks.
Pale Chanterelles
This rather rare pale Cantharellus species likes to fruit in mixed forests on calcareous soils. Its taste is peppery, sharp-aromatic and has a high vitamin and mineral content. It is considered a vital & medicinal mushroom in traditional Chinese & Japanese medicine. By the way, there are about 18 different species of chanterelles.
Puffball
This heat-loving decomposer often fruits in parks, meadows and embankments from early summer to autumn. The puffballs are among the smallest and can only be determined reliably in old age. A mix-up is of no culinary importance. Toxic fungi do not exist if the snow-white inner layer is observed without lamellae.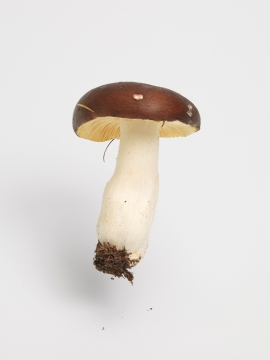 Entire Russula
The colourfulness of his hat skin does not always make his destiny easy. Because of its partly imposing size (20 cm) and its thick-skinned hat skin it is also called elephant ubling. This symbiosis fungus likes to fruit from early summer to autumn on calcareous soils in mixed forests.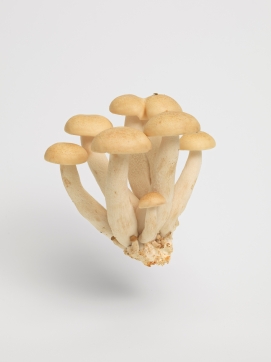 Hypsizygus
The fruit-bodies possess a whitish ochre-colored hat with white stalk and are fused in tufts. They have a mushroom-spicy marzipan-like aroma and a slightly sweetish aniseed flavour. They are cultivated on dead or living hardwood, mainly on beech, sometimes also in the dark.
Red-Capped Scaber Stalk
This roughnut is distinguished from the birch red cap by its reddish to reddish-green scales on a white stem ground. The whitish flesh is on average first reddening then blackening. Like all red caps, it is an excellent edible mushroom and produces fruit from August to October in deciduous forests, mainly under oak trees.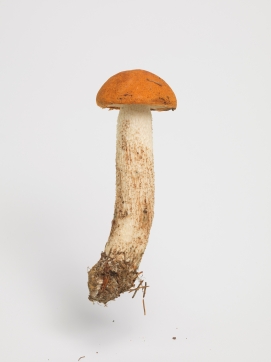 Aspen Bolete
Probably the best-known red cap has a brick-coloured fine felted, mostly shortened hat skin.
The whitish stem often turns blue-green when touched and has reddish to red-grey scales. It fertilises individually or in small groups from June to November under trembling poplars (aspens) on forest edges and parks.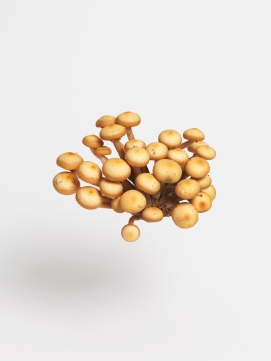 Heathed Woodtuft
The delicate representative of the pholiota family is a small agaric with a strong aroma. Not only does it smell pleasantly spicy, its powerful, nutty taste brings in the forest. It prefers to grow in deciduous forests, and although it looks like a bush it grows from a single stalk on stumps and branches of trees. The harvesting season kicks off in spring and lasts until late autumn.
False Saffron Milkcap
The mildly aromatic to slightly bitter astringent type of fungus belonging to the milkling genus differs from all other milklings by its orange-yellow to wine red milk which emerges upon injury and is a sure sign of its edibility. This symbiosis fungus is often abundant in young spruce cultures from August to December. With high irritant consumption, similar to beetroot, the urine turns reddish.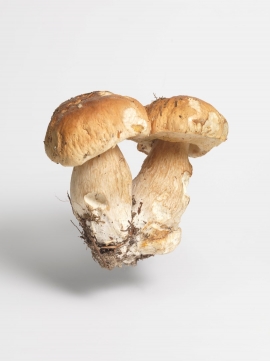 Porcini Mushroom
This mildly aromatic delicacy fruits here from July to November in mixed & coniferous forests, often on acidic soils.
Young specimens often grow together with the stem deep in the ground, so that only the light or brassy hat protrudes.
Its white hat rim and the reddish-brown color zone under the hat distinguish it from the other porcini mushroom species. Mature specimens have yellow to olive-green tube mouths as well as a stretched handle with a brownish net pattern.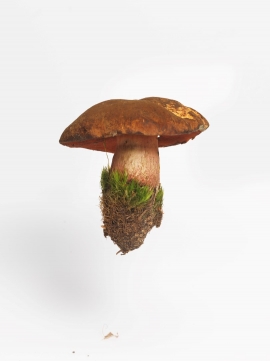 Dotted Stem Bolete
One of the first edible mushrooms, usually already starting from May, which is also known as Schusterpilz because of its finely felt hat skin. It often fruits in mixed forests, on acidic soils and is hardly infested by maggots.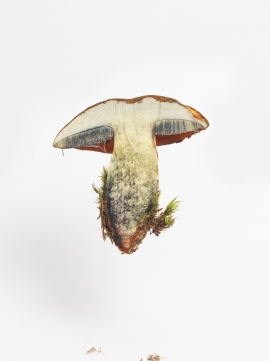 Dotted Stem Bolete
Its compact flesh is very sensitive and turns immediately blue under pressure. It is one of the best edible mushrooms and is just as good or even better than the coveted porcini mushroom!
Russula cyanoxantha
Its white, firm meat has a fine nutty excellent taste. The hat colours are extremely variable, mostly violet, greenish to pink and always mixed in some kind of multi-coloured. With age, the colours fade and the hat often appears rust-stained. Its special characteristic are the white, soft, flexible lamellas. This distinguishes it from the other Taubling types because there individual lamellas splinter immediately. It likes to fruit from June to October in deciduous and mixed forests on limestone soils.
Macro Mushroom
This species is also characterized by its size of over 30 cm hat diameter. However, only young specimens have an anise to almond-like odor. This subsequent decomposer quite frequently produces fruit on meadows, pastures and forest edges from early summer to autumn.
Greasy Green Brittlegill
It is one of the best edible mushrooms and one of the few raw edible mushrooms. This symbiosis mushroom fruits in deciduous forests and mixed forests from early summer into autumn. It has a greenish, typically fieldy rupturing hat skin and a very compact fleshy consistency for russula.
Shingled Hedgehog
The Shingled Hedgehog, also known as deer mushroom, has a firm flesh and a pleasant smell. It likes to fruit from late summer to autumn in high altitudes under pine trees. An aromatic spice powder can be produced from young specimens.
Handkea Utriformis
The up to 20 cm large round fruiting bodies should only be used if the meat is still white and firm. The white-spongy meat has a fine bitter almond aroma after frying and is tenderly melting. This subsequent decomposer mainly fruits on meadows, pastures and orchards in mountainous areas from early summer to autumn.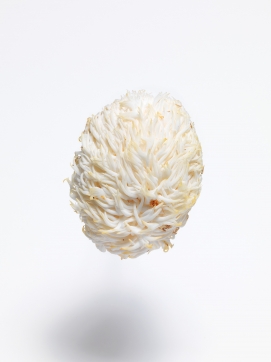 Lion´s Mane Mushroom
The Lion´s mane mushroom is a fungus that is very widespread in Europe and Asia, but quite rare and can be found on dying or dead trunks of various hardwoods, especially hardwoods such as beech and oak. Mostly it bears fruit in autumn, rarely also in spring.
It is one of the most widely cultivated mushrooms in Asia, where it is highly sought after not only for its excellent taste, but also for its diverse fields of application in traditional folk medicine. In Europe today it is hardly cultivated and is rarely available as fresh mushroom. Its fruit bodies can weigh over 1 kg.
Japanese Woodtuft
The Japanese woodtuft offers up a solid, crunchy texture and a fine nutty aroma that make this little beauty one of Japan's favourite edible mushrooms. It particularly
adds flavour to soups, stews and noodle dishes. When it is freshly harvested, a sticky film covers the reddish-brown, shiny cap, but this layer disappears completely during cooking.
Caesar's Mushroom
It was regarded as the favourite mushroom of the Roman army leaders and is today one of the best and most expensive edible mushrooms in the world. Its taste is pleasantly nutty and mild. The white onion-like tuber is completely wrapped in velum when young. This symbiosis mushroom fruits from May to July in the deciduous forest with oaks, beeches, and chestnuts.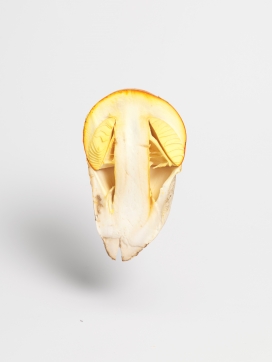 Caesar's Mushroom
Its white flesh, which is clearly yellow under the hat skin, is pleasantly mild.
The slats are free, dense and yellow in colour. Imperial mushrooms are also one of the few fungi that can be eaten raw.
Pale Oyster
If mushrooms had a club for beautiful people, the elegantly shaped pale oyster mushroom would be one of the first to be admitted. It is related to the oyster mushroom, but it is firmer and meatier, and has a surprising scent of aniseed. If it hasn't been harvested before, its cap can grow up to 20 centimetres wide, but the best time to pick it is while it's still young and tender.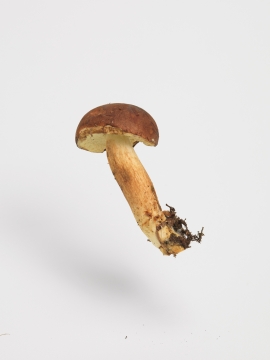 Bay Bolete
This most famous felt earring has a chestnut brown matte hat skin. The whitish to yellow flesh blue when sliced slightly. With older mushrooms, the meat turns brown after cutting and should not be eaten. The first whitish tubes turn olive green in age and are slightly blue when pressed. It has a nutty-mushroomy taste and fruits from July to October in mixed and coniferous forests.
Sweetbread Mushroom
Its white, rather brittle, non-elastic flesh has a pleasant flour-like smell and taste. The flour cuttings and the toadstool are the best porcini mushroom indicators. From early summer to autumn often in mixed forests on non-acid soils.
Lurid Bolete
It can be found from June to November near deciduous trees and in parks. Its flesh is beige-yellow, in case of injury or pressure immediately black-blue discolouring as well as reddish in the base of the stalk. It has a mild, fungal taste, but in 1-5 % combination with alcohol causes gastrointestinal complaints.
Lurid Bolete
Intense black-blue discoloration immediately after cutting. Compared to the flaky-stemmed Lurid Bolete, it has a reddish flesh under the tube lining which is visible as a fine line between the tube layer and the flesh of the hat.
Saffron Ringless Amanita
This unfortunately slightly brittle, good tasting edible mushroom belongs to the genus of the vaginal stripes.
It likes to fruit from May to October on moist, acidic soils in mixed forests and must be well heated like all vaginal stripes because it is slightly poisonous raw. In addition, it should only be collected by connoisseurs because there is a risk of confusion with mushrooms.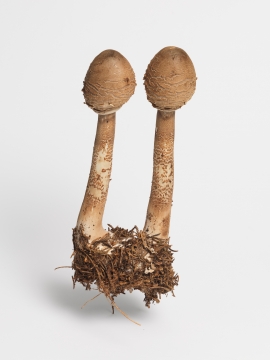 Parasol Mushroom
Its name is an outdated name for "parasol" (borrowed from French parasol in the 18th century "keep off the sun" from Italian para il sole). As a very young mushroom, it looks like a timpani mallet, at maturity it is reminiscent of an open parasol. The parasol is an excellent edible mushroom whose hat is ideal for roasting (breaded or unbreaded).
Parasol Mushroom
The Parasol Mushroom is a fungus common to temperate regions of Europe and named for its narrow stalk and wide, open cap. They are a sought after mushroom both for their size –which enables them to be easily stuffed or gratinated- and their flavour –which is clean and slightly nutty. The stalks, which are to woody to be eaten, can be dried, ground and used to make a seasoning.
Périgord truffle / Tuber melanosporum vittadini
Its taste is strong & seductive with hints of musk, nuts & humus. The "Melanosporum" is also commonly called Périgord truffle. But there are also large numbers of them in Spain, Italy and now also in Australia & New Zealand. The warty-black truffle with a reddish-brown shimmer has a brown-violet to black-purple flesh which is interspersed with a dense light-white vein net. It reaches its optimum ripeness between the end of November and March.
Flammulina
This typical winter fungus likes to fruit in clusters from October to April, on living and dead hardwood, especially on elms, willows & poplars. His velvety, juicy, bright orange-colored thin hats are insensitive to frost, do not rot and have a sticky, gelatinous hat skin. The taste is pleasantly fine but it is recommended to harvest only the mushroom caps because the stems in the lower area are brown to black velvety and very tough.
Albatrellus ovinus
This very fine and mild tasty edible mushroom has a fine-pored whitish-cream-coloured flesh and fruits from July to October in the low to high mountains in the coniferous forest under spruces & pines and likes to appear together with the Albatrellus confluens. It is particularly suitable for marinating and, unlike roll-porling, it does not become bitter as it ages.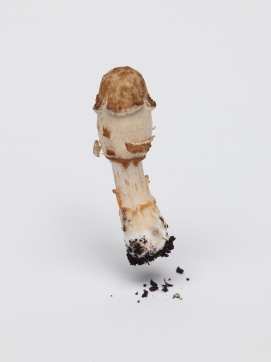 Shaggy Ink Cap
The Shaggy Ink Cap possesses a very striking appearance because it resembles a large bell.
The very thin, freely hanging, closely spaced lamb leaves are not fused to the stalk and hang freely. They change their colour from white to pink to black with increasing age, several times.
It prefers grassy locations and is therefore, from spring to autumn, often found in very large groups along forest and roadsides.
The young Shaggy Ink Cap has a very mild and unmistakable aroma. It is not suitable for storage, as the meat will soon begin to melt and can no longer be used.
Shiitake
The Chinese have a particularly lovely name for this delicacy: hiang-gu means fragrant mushroom, highly appropriate for this mushroom, which is also greatly
appreciated in Europe.
Shiitake is one of the oldest mushrooms, and the favourite in both China and Japan. In the past the Emperor was given shiitake as a gift. This delicacy has a highly
aromatic and solid flesh.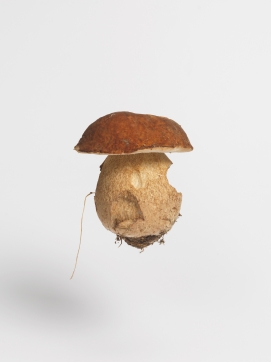 Summer Bolete
One of the first tubes of the year. This great edible mushroom is not only highly appreciated by people. Often in mixed forests on calcareous soils, it produces fruit from May to September. It differs from the spruce ceps by its matte, sometimes finely scaly torn hat skin as well as its thinner stem with clear net pattern. Its meat is pleasantly mushroomy, nutty and it is one of the few mushrooms which are also edible raw.
Russula vesca
Because of its whitish, very firm, mild meat, it is one of the tastiest pigeons. Its hat skin varies from flesh-coloured to brownish, does not quite reach the edge of the hat and can be removed by about half. Its very dense, whitish-ceme-colored lamellae are very brittle, as with almost all species of russulas. This mycorrhiza fungus likes to fruit from June to October in deciduous and mixed forests.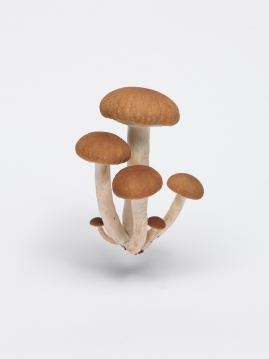 Poplar Fieldcap
Particularly sought after in Italy and Japan, this mushroom belongs to the category of champignons. It loves the wood of poplars above
all and only reluctantly moves to other trees. Its delicate forest mushroom aroma remains genteel and mild, and the meat stays tender,
too. By the way, in Italy the mushroom is called pioppino, in Japan it goes by the name of yanagi-matsutake.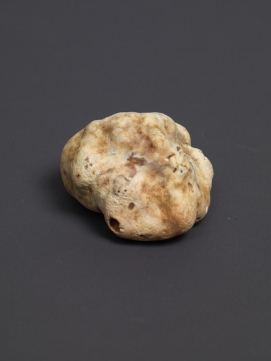 White Alba Truffle
The moon-yellow to golden-yellow truffle with a fine, almost smooth outer skin has an intense natural unique aroma with garlic & cheese components. The mostly hazelnut-coloured flesh, the more open with pink spots, is streaked with a dense light-white marbling. It bears fruit from September to December, mainly in Italy and the Balkans.
Lamb
orous
Connoisseurs regard lamb from the Pogusch as the Rolls-Royce of the species. It has eaten it´s fair share to earn this reputation – in fact, it has already added spice to it´s own life...