The artists
in the field
Waltraud und Michael Bauer supply exquisite fruit and vegetable rarities, the stuff that top chefs spin their culinary dreams out of. The couple run an agricultural business in Stetten that reminds you more of a meticulously set-out fairytale garden than of fields.
Several years ago the following happened in a top Vienna restaurant. A guest ordered a regal meal including five courses and brimming with the season's delicacies. After the scallops, John Dory and other delights had been polished off, the satisfied guest leaned back and asked to see the head chef. The latter came running, the guest looked at him ecstatically and declared that he had never eaten such good potatoes in his life. What kind were they?
The potatoes whose ranking had overtaken the seafood came from vegetable farmers Waltraud and Michael Bauer, in Stetten near Korneuburg. The farm the couple run defies the inadequate traditional de- scription of an agricultural business. Any visitor would wander through the Bauer's realm as if in a fairytale garden full of colour, fruit and fragrance.
Blooming fragrant roses of all colours as well as head-high cardones, the artichoke's wild cousins, grow between the border beds full of flowers with (needless to say) edible blossoms. Long raised beds exude the aroma of herbs most of us have probably never heard of, much less tasted. Rare apples, pears and apricots ripen on the fruit trees, while in large poly-tunnels physalis, aubergines, peppers, beans and cucumbers of all varieties run riot alongside innumerable kinds of tomatoes whose colours range from dark purple and striped green to creamy white. Their flavours vary just as much as their appearance. Continued in S-Magazin...
Haul of the wild
Unfarmed freshwater fish guarantees a very special taste experience. Österreichische Bundesforste manages Austrian agriculture and forestry, including sustainable fishing at the lake Hallstatt lake in the Salzkammergut.
The river Traun flows into the Hallstättersee, but the boat Traun floats on it, at 199 HP and built in a wharf in Linz specifically for this lake and its professional fishermen. It's Friday, 5am, and Maximilian Peinmeister, 25 and head of fishing at the Österreichische Bundesforste, and his 33-year-old colleague, biology graduate Alexander Scheck, are heading from Hallstatt to the opposite shore. A few last shreds of rainclouds hang from the sky as the diesel engine putters along quietly on the lake as smooth as glass, and the early summer sun is getting stronger. In a few minutes it will all look like a perfect picture postcard.
"The wild-fishing season starts in July and ends in October," explains the head of fisheries explains and steers towards the net hanging from a rope held down by a stone in the shallow water. With the engine now switched off, Max and Alexander pull the boat along the rope away from the shore, towards the first buoy. The latter marks the start of a 70 metre-long gillnet that begins three metres below the water's surface and reaches down to 13 metres. A cheeky gull is watching all the time, shrieking hungrily in the morning air, as one whitefish after another lands in the boxes filled with ice. "It's sustainable management we're looking out for," says Alexander and points to the nets' mesh. The 40 mm (1.5 inch- es) gaps are large and quite permeable, ensuring that it's almost entirely whitefish weighing 400 g (14 oz.) or more to get caught. "These are mostly six years old or above, so younger fish swim through." Of course this applies not just to the whitefish but also any by-catches, mostly char, trout and – very rarely – pike. "Thanks to the width of the mesh and a ban on amateur fishing for lake trout, their stock has greatly recovered," says Alexander. In short, wild fishing guarantees natural offspring, and for this reason no young fish are introduced into the lake. The annual catch definitely does not exceed the natural growth of young fish.
The first net has been dealt with, now comes the second. Both are put out on Monday and emptied once daily from Tuesday to Friday, after which they are immediately cast out again, except on Friday. Wild catches generally mean absolute harmony with nature. Fish are caught now as they were when commercial fishing in the Salzkammergut was first documented in 1280. The animals go untouched by human hand. Neither fed nor bred, they live entirely on plankton – insects that land on the lake's surface – and, if they are predatory fish, other fish. They're at least six years old or above, at least in the case of the whitefish. Another reason for the great quality of the fish is the excellent quality of the lake's water, which even in summer hardly reaches above 21 degrees Cel- sius (70 degrees Fahrenheit). "This is mostly due to the glacial water that flows in the Waldbach down from the Dachstein mountain into the lake," says Max. Together with the Traun river the Waldbach also ensures that the lake hardly ever freezes over. "It's because there's such strong streams through the lake. The last time that it was really totally frozen after a long period of extreme cold was more than 20 years ago." Continued in S-Magazin...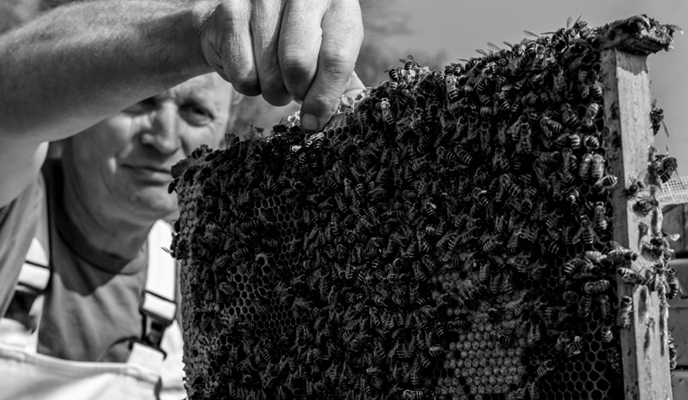 Lord of the
bees
The terroir discussion is moving away from wine. Now it´s honey reflecting the lands where the bees are busy: Styrian honey from beekeeper Johannes Gruber where vintages are compared from year to year. A look at landscapes in jars of residual sugar levels made by 16 million feelers.
Musicians, artists or chefs are said to have a revolutionary spirit; less so beekeepers. Indeed, a first encounter with Johannes Gruber in Buch am Buchberg in Styria does little to challenge this cliché. However, it soon becomes clear that a revolutionary heart does beat in Johannes Gruber's chest, fighting for greater awareness and consideration of origins, this time in regard to honey. Earlier on he believed in the natural power of wines, grown organically, bottled free of contamination. The Styrian sold them in Paris and the south of France at a time when in Austria biodynamics was something talked about behind closed doors.
Today, revolutionaries regard organic and natural wines as old hat. Maybe that's why Johannes Gruber fills up jars with landscapes made from honey, and why he's moved back from France to the hills of eastern Styria. Here he's busy shaking up the assumption that there's just simple flower and forest honey. "In the honey, the bees reflect the landscapes they live in", all within a radius of four kilometres (two and a half miles). It could be compared to a Grand Cru from Burgundy, where the wine grown in a few hectares characterises its region. "A jar of wood honey, please," is not good enough for Gruber. The order should be for "a jar of Stuhleck mountain wood honey, vintage 2013". Several of the nomadic beekeeper's hives stand at the Stuhleck, in the foothills of the Fischbacher Alps, 1,200 metres (4000 feet) above sea level. He doesn't carry his hives to the meadows on his back like they used to 200 years ago: these days bees travel by car, in Gruber's case an old VW van criss-crossing southern and eastern Styria. This can be up to three times per season, whenever a bloom has faded and it's time to move on into the forest or to a field of sunflowers.
The bees are always busy gathering and filling up the honeycombs with fresh honey, from buckwheat pollen or cherry orchards near the Slovenian border. Gruber takes out and the full honeycombs and replaces them with empty ones. "You only need to know what is in bloom when and where, and of course you also have to be on good terms with the farmers," says the beekeeper. They profit from the bees on their land, too: it's an ingenious system that couldn't have been designed better by an economist, a win-win solution for everyone, and 40–50 kilos (88–110 pounds) per comb. "That's even though beekeeping avoids industrialisation as much as possible," the former wine trader explains. The bees just can't cope with it. Maximising profits or splitting bee populations too often to keep even more hives doesn't work. "The bees will die." A beekeeper's job is to ensure that there's always enough but not too much space in the hives. "The temperature is crucial. If the hive's too big it gets too cold. If there are too many bees in one place there's a risk that they'll swarm out," settling instead in a tree trunk or somewhere else more suitable and comfortable. To avoid that, the bees need visiting at least once every ten days, which limits the number of bee populations a beekeeper can look after. In Johannes Gruber's case that's an impressive 200, with 40,000 or more animals per hive in the summer. Continued in S-Magazin...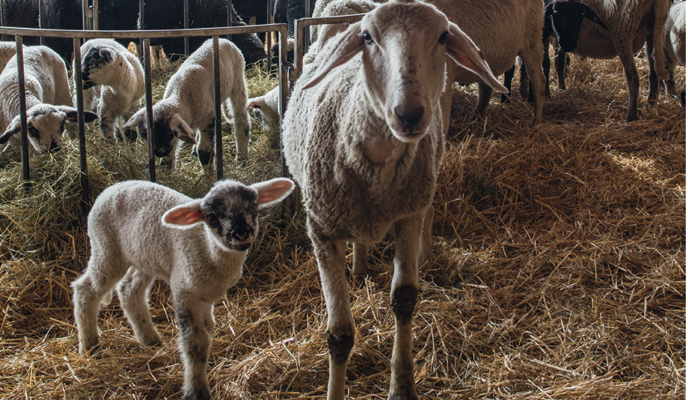 Lamborous
Connoisseurs regard lamb from the Pogusch as the Rolls-Royce of the species. It has eaten it´s fair share to earn this reputation – in fact, it has already added spice to it´s own life...
It's Thursday. Written in large letters on the blackboard outside the house, the meaty dialect underlines the tempting announcement of freshly slaughtered lamb. Another relevant statement follows in the line beneath: "Inner Values." That should explain it all to any gourmet with even the tiniest of epicurean imagination, maybe not in great detail, but enough to go by. Also, he could always ask about the culinary excursions of the day. The staff are as genuinely welcoming and ready to give out information as their traditional Styrian outfits are real. Soon the gourmet could be sitting in the Steirereck on the Pogusch, perhaps outside on the sun terrace, almost shamelessly close to culinary paradise as he takes in the unspeakably seductive aromas rising from the plate in front of him, like roast lamb kidney with shallots and sun-dried tomatoes, or lamb's liver with shallots and thyme. Ideally it's kidneys and liver, but special requests are fine, too. The customer need only charm the waiters by complaining that he couldn't possibly choose between these two delights to discover that a whole kidney from a sucking calf, roast in deep fat, is also on offer. Just saying...
Monday was slaughtering day. "On average we deal every week with four to five of our lambs, as well as two sucking calves we get from a farmer close by. We also slaughter our own pigs, depending on demand," explains Walter Gesselbauer. Walter is something of a Pogusch bedrock: on 1 April this year he celebrated his 20th work anniversary. Heinz Reitbauer senior brought the professional carpenter on board – a wise forethought. The then boss decided that he no longer wanted to lease his restaurant and had begun to realise his vision of his own restaurant, together with the agricultural business already in existence. This rural life's work finally took off in the early summer of 1996. "Even so, I could not look after everything myself, of course, however close to my heart animal husbandry was and still is. And I also had to run the Steirereck in Vienna...
At that time, 20 years ago, the barn was where now some of the outstandingly comfortable and mostly occupied rooms are. Along with that the barn was quite a bit smaller than the new, downright luxurious home for the animals, built in 2008, just a little lower down than the main house. The façade features a large, clearly visible sign: "Romantic Rooms for Sheep". In a way we have Emma and Paula to thank for this new barn. They were two nasty hurricanes leaving devastation in their wake in early 2008, breaking trees like cocktail sticks and causing wood prices to plummet. "We made use of what is technically called the windfall, that is, the large piles of wood," Walter says as he feeds two baby sheep with a bottle. There's a good reason: "Every so often, when a ewe gives birth to twins she seems to completely 'forget' her firstborn and doesn't recognise it as her own, because too much time has passed between that birth and the second one." Continued in S-Magazin...